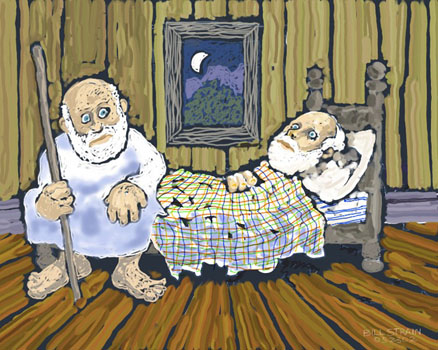 Yet Again. God Comes to Blanco County
By Bill Strain
Preview by Ruth Hamilton
Bill i I love the story - it made me laugh. God - I would respectfully inform You that English is already the greatest, broadest, most colourful (with a u in that word, please) language on earth, as we, the English speaking creatures, are great thieves. Compared to English, the romance languages are sparse, unimaginative and limited. We stole their best bits and adapted them to suit our more superior tongue. God, what is an explannation point? Explain, please. God, You may have free rein, not free reign - though, if You are God, perhaps reign is correct after all. Mr Strain, polish this work and send it to a magazine were we kan reed it as proper Inglish in the yeersz to cum.
And on the twenty third day of the month of May God did appear to his servant, Bill Strain and these are the things that transpired during and as a result of that visit to Blanco County of the State of Texas in the United States of America Western Hemisphere.... 'excuse me, that's what it's called...the western hemisphere west of what? i don't know if you live in san francisco the far east is west if you live in new york the far east is liverpool ... excuse me again, i'm trying to write a story here!' anyway on may 23. 2002 i was sound asleep when.....
"BILL" 'yeah'.....(long pause).........'god! is that you?' "YES, BILL, ARE YOU AWAKE?" 'i am now god' "BILL, I HAVE A JOB FOR YOU" 'why me god?' "YOU ALWAYS SAY THAT, IN FACT THEY ALL SAY THAT WHEN I TELL THEM I HAVE A JOB FOR THEM WHY IS THAT, BILL?" 'i can only speak for myself, god but i'd be just as happy if you got pat glenn or mifflin dove to do some of your jobs sometimes the jobs i do for you don't work out very well' "BILL, IF I'D WANTED MIFFLIN DOVE OR PAT GLENN TO DO THIS JOB, DON'T YOU THINK I COULD HAVE FOUND MY WAY TO THEIR BEDSIDE?" 'well, i just thought how many times i've disappointed you you come along and sit on the side of my bed and wake me up and give me some momentous assignment and then my whole eternity could be messed up if you get mad at me and to tell you the truth i'm not really pleased with the results of the last assignments i've done for you, god what if i run away?' 'WELL, BILL, JONAH TRIED THAT AND YOU REMEMBER WHAT HAPPENED AND THE NEXT TIME I MIGHT NOT CREATE A BIG FISH......I'VE BEEN SPENDING A LOT OF TIME THINKING ABOUT RATTLESNAKES AND ANYWAY, YOU CAN'T HIDE FROM ME I DON'T CARE IF YOU GO TO RIO GRANDE CITY, ROMA OR ZAPATA I CAN STILL FIND YOU AND BESIDES ALL THAT I'LL ADMIT YOU HAVEN'T SET THE WORLD ON FIRE FOR ME BUT NEITHER HAVE YOU BEEN IDENTIFIED AS A PILLAR OF SALT SO I SUGGEST YOU JUST LISTEN TO MY PROPOSITION AND THEN ACCEPT YOU REALLY SHOULD BE GRATEFUL THAT YOU'RE NOT LIVING IN THE GOOD OLD DAYS WHEN THE CHILDREN WENT INTO THE PHILISTINE VILLAGES KILLING EVERYTHING THAT MOVED OH THOSE WERE TERRIBLE TIMES 'yes god but i can't imagine you supporting all those violent things what happened? "SAINT LUKE THE PHYSICIAN DOESN'T HAVE MUCH TO DO SINCE WE HAVE VERY LITTLE ILLNESS IN OUR POPULATION SO HE TINKERS IN THE LAB A LOT AND AS A MATTER OF FACT WE'VE HAD PROSAC HUNDREDS OF YEARS BEFORE YOU GUYS EVEN THOUGHT OF LOOKING FOR IT" 'that's amazing god'
'god, why do we look so much alike?' "WELL I TOLD YOU A LONG TIME AGO, I MADE YOU IN MY OWN IMAGE" 'but why did you make us in this image? why couldn't we have looked more like michael douglas or even rock hudson?' "BILL, THE SPANISH LANGUAGE IS RICH IN IDIOM IN FACT THEIR PROVERBS ARE ALMOST EQUAL TO MINE THEY HAVE ONE WHICH SAYS...AND YOU'LL HAVE TO FORGIVE ME HERE BECAUSE SAINT PAUL WHO IS IN CHARGE OF COMPUTERS HAS NOT INSTALLED MY SPANISH LANGUAGE SOFTWARE BUT ANYWAY, THE PROVERB GOES LIKE THIS....'POR ESO DIOS NO LE DA ALAS A LOS ALECRANES'....IN ENGLISH THAT SAYS ....'FOR THIS REASON GOD DID NOT PUT WINGS ON THE SCORPION'...I LIKE THAT ONE BILL AND I THINK YOU CAN SEE THE WISDOM OF IT IF YOU HAD LOOKED LIKE ROCK HUDSON ALL THESE YEARS YOU'D HAVE CASHED IN YOUR CHIPS A LONG TIME AGO AND I NEVER WOULD HAVE BEEN ABLE TO CALL ON YOU WHEN I NEED YOU YOU SEE WHAT I MEAN?" 'yes god, i understand' "AND BESIDES ALL THIS PROCREATION STUFF IS FOOLISHNESS ANYWAY AS I TOLD YOU BEFORE ON MY SIDE OF THE IVORY CURTAIN THEY ARE NEITHER MALE NOR FEMALE AND ARE NOT GIVEN IN MARRIAGE OR AS OFTEN HAPPENS 'TAKEN' IN MARRIAGE AND THEN IF I HAD MADE YOU LOOK LIKE ROCK HUDSON THERE'D BE THIS FAT BALDHEADED GAY PERSON STRIKING OUT EVERY NIGHT IN THE BARS YOU KNOW, BILL I DON'T HAVE TO EXPLAIN MYSELF TO YOU" 'i know god but you're a male and aren't you attracted to females and when you visit mifflin dove or pat glenn don't they notice that you look a lot like me? "BILL, HAVE MIFFLIN OR PAT EVER CALLED YOU AND TOLD YOU HOW MUCH I LOOK LIKE YOU? 'no god' "HAVE YOU EVER SEEN ME IN AN EVENING DRESS? 'no god' "BILL, WE'VE SPENT ENOUGH TIME ON THIS SUBJECT NOW LET'S GET DOWN TO BUSINESS...." 'yes god' "IT CERTAINLY IS A BEAUTIFUL NIGHT OUT THERE I'M TO BE COMPLIMENTED DON'T YOU THINK BILL?"A 'actually got that's a picture i painted to help me fall to sleep there was no window near my bed as a matter of fact it's raining outside now god' "YOU KNOW BILL SOMETIMES MIFFLIN AND PAT SEEM LIKE ATTRACTIVE ALTERNATIVES DON'T PUSH ME BILL" 'ok god sorry'
"BILL, I WANT YOU TO REINVENT THE ENGLISH LANGUAGE..." 'gulp!' "I TOLD YOU THAT SPANISH PROVERB FOR A REASON SPANISH COULD USE A LITTLE REVISION BUT IT HAS COLOR AND I LIKE COLOR BUT THE ENGLISH LANGUAGE IS A COMPLETE DISASTER HERE'S WHAT I WANT: DISCARD ALL CAPITAL LETTERS AND ALL PUNCTUATION EXCEPT IF IT HAS MEANING I LIKE EXPLANATION POINTS THEY'RE UPRIGHT KINDA LIKE STEEPLES QUESTION MARKS ARE GOOD BUT THEY'RE POORLY DESIGNED......TOP HEAVY GET RID OF PERIODS (STOPS IN ENGLAND SO CALL RUTH HAMILTON AND MAKE SURE SHE GETS THE WORD) COMMAS AND BOTH COLONS AND GET RID OF THE 'Q' WHICH IS NOT A LETTER WITHOUT A 'U' AND THAT MAKES IT A PARASITE LETTER AND 'KW' WILL DO THE SAME JOB NO ONE CAN EVER DECIDE WHETHER TO PRONOUNCE A 'C' LIKE A 'K' OR AN 'S' FOR INSTANCE THE WORD 'CONCENTRATE' THE FIRST 'C' IS A 'K' AND THE SECOND ONE IS AN 'S' SO GET RID OF IT TOO I WANT PAUSES TO BE INDICATED BY SPACES ONE SPACE BETWEEN WORDS THREE SPACES BETWEEN SENTENCES AND FIVE SPACES WHERE YOU WANT THE READER TO REALLY THINK ABOUT IT.....OK" 'yes god, is that all? oops sorry about the comma' "NOW YOU KNOW MY FORTE IS DELEGATION OF AUTHORITY WHEN I DELEGATE I GIVE A MAN FREE REIGN TO MAKE IT OR BREAK IT ON HIS OWN I DON'T TELL A MAN HOW TO DO HIS JOB I LET HIM SINK OR SWIM ON HIS OWN MERITS" 'god how about women?' 'BILL YOU KNOW WHAT I MEAN! NOW GO OUT THERE AND WRITE A TREATISE ON THE ENGLISH LANGUAGE LET'S CALL IT 'THE REVISED STANDARD VERSION OF THE ENGLISH LANGUAGE' OH THAT'S GREAT I LIKE THAT YES, THAT'LL BE YOUR TITLE NOW GET WITH IT BILL!" 'yes god' "OH BY THE WAY BILL THE REASON I PICKED YOU FOR THIS JOB WAS BECAUSE YOU STARTED WRITING IN ALL CAPITAL LETTERS AND THEN SWITCHED TO LOWER CASE LETTERS AT FIRST I GOT REALLY 'PO'ED ' AT IT" "god you surprise me i had no idea you used that kind of language "OF COURSE, I WAS POSITIVELY OPPOSED TO IT' 'right' "AND SPEAKING OF CAPITAL LETTERS FOR GOODNESS SAKES WHENEVER YOU'RE TALKING ABOUT A CAPITOL OF A STATE OR NATION USE THE CAPITOL WORD NOT THE CAPITAL WORD FOR INSTANCE AUSTIN IS THE CAPITOL OF TEXAS NOT THE CAPITAL UNLESS YOU'RE TALKING MONEY AND THEN IT MIGHT BE THE CAPITAL CITY GOT IT BILL?" 'yes god'
"WAIT A MINUTE BILL I HAVE ONE OTHER INSTRUCTION TO GIVE YOU I WANT THE PRONUNCIATION AND SPELLING TO BE SUCH THAT YOU CAN TELL THE REGION OF THE COUNTRY BY THE WAY A MAN OR WOMAN BILL SPELLS A WORD GOT IT BILL?" 'yes god' "NOW GET TO WORK ON THIS AND REMEMBER YOU HAVE ALL THE FREEDOM IN THE WORLD ON THIS PROJECT AND IT IS MY EXPECTATION THAT ENGLISH WILL BECOME SO POPULAR IT WILL BE ESTABLISHED AS THE WORLD'S NUMBER ONE...BY THE WAY SIGNS OF 'POSSESSION' IS SOMETHING YOU NEED TO WORK ON NOBODY CAN EVER DECIDE WHETHER BEFORE THE 'S' OR AFTER THE 'S' BACK TO THE THOUGHT... WILL BECOME THE WORLD'S NUMBER ONE CHOSEN LANGUAGE THAT'S IT BILL NO MORE QUESTIONS OK VAYA CON DIOS BILL! 'adios god'
'oh by the way god where do you want me to work? do you want me to go up on a mountain? are there going to be any stone tablets involved? "NO ACTUALLY BILL I DON'T THINK YOU COULD MAKE IT UP A MOUNTAIN THERE' S A LITTLE FOOTHILL ABOUT THREE MILES SOUTH OF BLANCO ON TOP ARE SOME OAK TREES WHICH MAKE A PLEASANT SHADE THAT'LL BE A GOOD PLACE FOR YOU TO WORK AS FOR STONE TABLETS THEY'D BE TOO HEAVY FOR YOU TO CARRY TELL YOU WHAT WHEN YOU GET TO THE TOP OF THE FOOTHILL YOU'LL FIND A SHOEBOX WITH SOME INDEX CARDS INSIDE YOU CAN USE THEM" 'how about a burning bush?' "GET OUT OF HERE BILL!" "OH WAIT A MINUTE BILL BE SURE AND WEAR A SHEET" 'a sheet why do you want me to wear a sheet?' "WHEN MOSES WENT UP ON THE MOUNTAIN HE WORE A SHEET AND HE'S CHAIRMAN OF THE DRESS CODE COMMITTEE NOW SO JUST WEAR A SHEET OK? 'yes god'
REVISED STANDARD VERSION OF THE ENGLISH LANGUAGE ORDAINED BY GOD and perpetrated by his humble servant bill strain on this 23rd day of may of the year of our lord 2002 during the reign of the good president george w bush (thanking god every moment that this great work did not come during the reign of william jefferson clinton
these words have been written on index cards found in a shoebox on the top of a foothill three miles south of blanco texas they will be the rules and the law of god concerning the english language until such time as god ordains further enlightenment green hairy things will grow on the inner parts of those changing any words in this treatise and for those who add to or take from these words there shall be added to and taken from the most important aspects of their life think bout it!
concept no 1: there will be no punctuation marks used except the exclamation point and the question mark all stops and pauses will be indicated by spacing after each word there will be one space after each sentence there will be five spaces and at whatever point you want the reader to seriously consider your words there will be longer spaces or even longer spaces the use of these rules will be voluntary for a period of two hundred years beginning with the date stated earlier after that period of time there will be penalties added for non application of these concepts which in keeping with the teachings herein will hereafter be known as KONSEPS and so we go to konsep 2
konsep 2: the alphabet let us consider the use of each letter in turn A: will have two pronunciations the soft a (ah like is aaahhhh, that is good) will be spelled 'a' the long a like in late will be spelled as aa since the e on the end of the word late is silent late will be spelled laat B: the b remains pretty much as it has been it will be called 'bee' and will be used to achieve a bu sound like in bubba however redundancy must be eliminated so bubba will simply become buba....got it? C: get rid of it god doesn't like it put it out tonight with the kat D: same as with b say it dee use it for du like in duh like in duuuhhhh, i don't know E: will be called ee which will be the long e sound as in eester this word illustrates both pronunciations F:same as b and d but be careful with this one G: will be called gee and will have the guh sound no more j sounds so when you go to the store buy jinjer not ginger....got that? H: no problem with h I: work on this one i which is me now becomes ii which is the long i pronunciation the short form of i am would then be iim like in iim going ti siin my name to this certificate so that no sin will have been perpetrated J: will be known as jaa and will provide juh sound as in just justice june jaunt K: will be called kaa and provide the kuh sound L: will be called el like f is called ef and will give us a luh sound like in laadee she was a very nice laadee M: again is em and will provide the muh sound to mee miiself and ii and mountan N: en....getting the hang of it? O: will be called oo the long o pronunciation of the letter therefore the word lonely will become loonle there will be no birds called loons we still have a u to pronounce right? P: pee is the name puh is the sound pleez get this one riit Q: cut the key off your typewriters delete it from your computers get it out of your mind from now on this parasitic letter has been omitted KW will no be used to spel quick=kwik kwanset hut that gave me a kwer feeling i just kwiverd al oovr i think we can eliminate a lot of vowels as the next to last letter in words ending in r (just a thought god) R: rr will be pronounced as the words or and are once were and will give a ruh sound to other words rooln rooln rooln oon th rivr are you getting the hang of leaving out those e's? maybe with a little help some other letter can become the most used in the english language.....let's do that right no eenglsh laangwidg S: will retain its' original pronunciation and give us the suh sound as in supriiz and supoort T: will be known as tee and continue to provide the tuh sound U: will be pronounced to rhyme with ewe a female sheep and will be written uu so the word fool would become fuul you might say i'm ful up with fuuls W: this will be pronounced double u as usual maybe we could have a contest to generate a new name for w i guess we could just call it 'george' which will suun beekum jorrg X: let's junk this sucker for a couple a hundred years and see if we can't CK work for it that is one secksee and we all know who plays the sacksafoon out it goes no more x's and of course that'll eliminate the tripple xxx's Y: i originally thought we could get rid of the y but we have to have it as a consonant however it will no longer be a substitute for ii frum now oon weel saa biisikl when we want to go riding Z: a good letter still has some uses called zee it gives the zuh sound to words like huzzy which will now be huzee (and please inform linda lthere was never a 'zed' it was always a zee; god permitted 'zed' because of the harness of your hearts) after the two hundred year trial period another generation may want to take up a kind of spanish accent in english and if they can get used to the word 'hussy' in stead of 'huzzy' we could eliminate another letter keep me informed on that one so there you have it with this redefinition of the english alphabet you will be able to write without looking up a single word in the dictionary think of the time saved and if anyone questions your spelling you can become petulant and say that's the way i SAY it! you will receive an email from someone who spells the name jon as jown and you will know they are from pensilvaaneea got it?
a little clean up here is needed and especially on the word 'little' if you pronounce little the way it is spelled it will be litt-lee to get little you would have to spell it littel this is true of most le's on the end of words and should be omitted from this moment on the new word is litul if you are writing in a spanish accent it would be leetul with these last words i embark you into the adventure of a new language and remember the power of words first there was the word
the assignment is finished i give my work to the people i have only now to report the completion of the project to god himself herself itself whatever
der god thiz iz yur umbl servant bil straan whuu haz ben blessd mane tiims oovr by yuur graaz and mersee ii kum now to report tuu yuu that ii hav kumpleeteed thee projek yuu asiignd mee an now humblee plaaz it intuu yur hans
'god is that you' "YES BILL I GOT YOUR PROJECT AND WE'RE STUDYING IT ACTUALLY IT'S BEEN PLACED INTO COMMITTEE AND I JUST THOUGHT I'D DROP BY AND THANK YOU FOR YOUR EFFORT" 'oh that's wonderful god i am so pleased that you dropped by is there anything else i can do for the project god?' "NEVER MIND BILL!" "BILL?" 'yes god' "DON'T PRESS YOUR LUCK OK?"