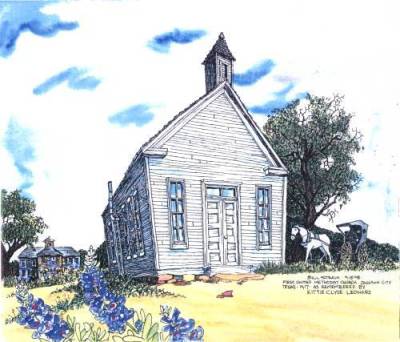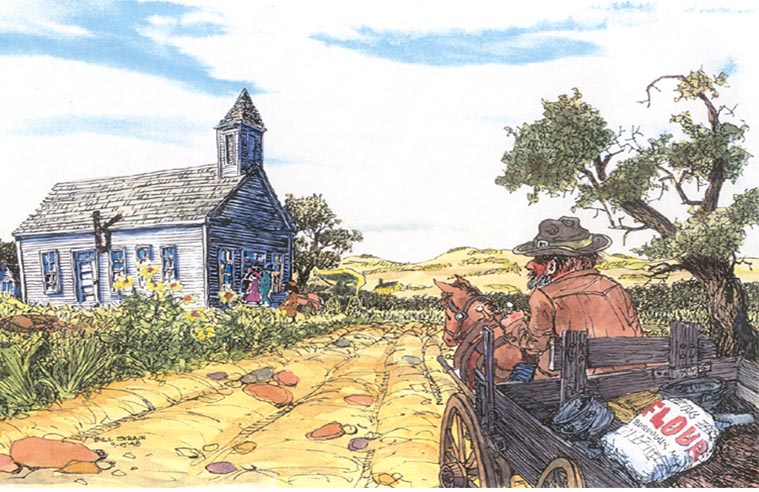 Kittie Clyde Remembers the Methodist Church South
Kittie Clyde Leonard was born in 1907 in Johnson City, Texas and as of this date, November 8, 2000 she still lives in Johnson City, Blanco County, Texas. Kittie Clyde joined the Methodist Episcopal Church South in 1917. She attended church in the building pictured for all of her life except for a few years spent at the University of Texas and Southwest Texas State Teachers College. The drawing was supervised and approved by Mrs. Leonard, who says that the original location was one block south of the present location and about a half of a block West. In 1917 the church faced South; at the present time it faces east. The church has been "rocked" as they say in Blanco County but underneath the rock which was quarried in Blanco County the original wooden building exists just as it was erected around the turn of the last century.
Kittie Clyde Ross married Jimmy Leonard and they lived their lives in Johnson City. Jimmy ran the Ross Hardware Co. and Kittie Clyde was at one time superintendent of schools in Johnson City. You may want to refer to the drawing called "The Last Flight of "Rip" Maddox and Jimmy Leonard" for narration relative to the courtship and marriage of this truly outstanding Blanco County couple. Most biographies of Lyndon B. Johnson will include the fact that Kite Clyde was Lyndon's high school sweetheart. They did not continue their relationship because the Rosses didn't approve of the Jobnsons. Their friendship continued throughout the lifetime of Lyndon Johnson to the degree that at the inauguration of President Johnson, Jimmy and Kittie Clyde were flown to Washington D.C. On Air Force One to attend that historical event.
I've said before and I still believe that if Kite Clyde had found a cure for cancer, she would still be remembered as Lyndon's high school sweetheart.
Rumor around town has it that Lyndon joined the First Christian Church because of a sweet young thing that was a member there. I asked Kittie Clyde about this and because we were in the middle of building a really fine activity building at the Methodist Church, I said "Just think, Kittie Clyde, if Lyndon hadn't gone after that little tramp at the Christian Church, he could have been a part of all this new building excitement......" Kittie Clyde stopped me and pointed out very firmly that Lyndon had joined the Christian Church during a revival being led by a very dynamic young preacher. I like my version of the story bener, but you don't argue with Kite Clyde.
If you look at the sketch just in front of the church building and ahead of the man in the wagon, there is a sharp right turn in the road. Kite Clyde says that many times they had to have a quick dismissal and run out of church to help people out of their overturned Model Ts who didn't make the turn. What do you expect when people are driving at speeds of 28 miles per hour and more?
One of the characteristics of the people of Blanco County and this part of Central Texas is they don't forget their friends. Lyndon didn't forget Kittie Clyde and you better think twice before you say anything negative about Lyndon around Kittie Clyde. I asked Kittie Clyde if Lyndon ever picked her up in that famous old Model T of his and she was shocked. She was very quick to point out that in those days young men did not pick up girls anywhere and most especially not in a car. There would be parties in homes and the young people would be invited. Girls would go to the parties together and leave the parties in the same way. The boys would do the same. I read somewhere that Lyndon told one biographer that he "loved Miss Kittie Clyde" when they were in school. This started out to be a narrative about the old Methodist Church but where Miss Kittie Clyde is concerned,she becomes center stage, and there's nothing you can do about it.
Sometime around 1994 the ladies of the First Methodist Church of Johnson City, Texas put on a play entitled "Hotel Heaven" where a number of women with varying shortcomings apply for admission into heaven and are transferred to the other place because of their particular affliction. Kittie Clyde played a drunk in this play which took place in the sanctuary of the church I was sitting on the right aisle seat near the middle of the room and as Kittie Clyde staggered down the aisle toward the Hotel Heaven lobby, she paused and offered me a drink from her Jack Daniels bottle. I didn't hesitate but turned up the bottle and as my dad had taught me to, let bubbles flow upward as if I were taking in a very large amount of libation which turned out to be lukewarm sweetened tea. As I handed the bottle back to Kittie Clyde our eyes met in a moment of truth and sure enough she wiped the mouth of the bottle off with the palm of her left hand as I have seen my father do many times when he doesn't want to drink after someone. I smiled. Kittie Clyde smiled. That was the best performance of an evening of outstanding performances. Here at the First United Methodist Church in Johnson City, Blanco County, Texas, we love our church just as the members of every churcb in the county love their church and just like everybody in the county and just like Lyndon we all "Love Miss Kittie Clyde".