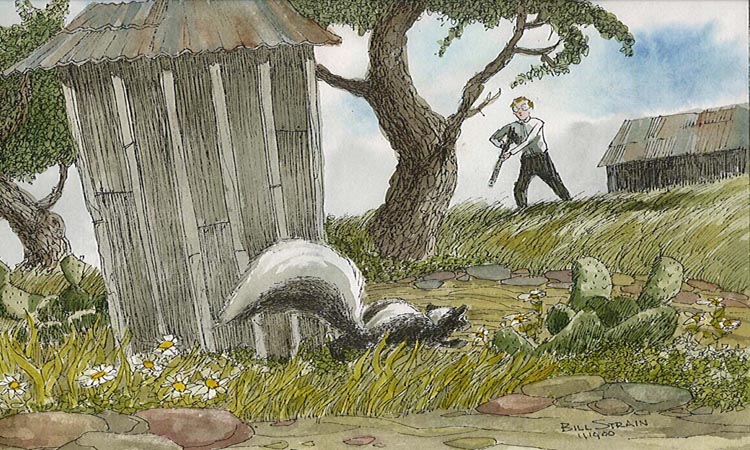 The Legend of Tom Koch
Right at the outset I want to say that I have never been one of those who believed that Tom Koch "just had" to leave Guadalupe County. Tom and Louise Koch (pronounced like the English Cook; with my great knowledge of German I would have thought it should have been pronounced Coke like the nickname of the famous Cola) and their two daughters Kay and Courtney and their son Charles all come from out there in Blanco County and the children are all graduates of Blanco High School. In Seguin and Guadalupe County being German is almost as important as being Christian and if a native of Guadalupe County intends to remain for any length of time in that area it is essential that he or she be an alumnus of Texas Lutheran College. At the present time Guadalupe County is made up ethnically of German, Polish, Czech and "Raggedy" American people. The term "raggedy" before World War I was a designation for any person who was not of German heritage. Between World War I and World War II there was so much intermarriage between the Germans, Poles and Czechs that the term "raggedy" became synonymous with Anglo and "shanty Irish" types; after all you can't be calling your grandchildren "raggedies" now can you? I asked Police Chief Leroy Snyder of Seguin what "raggedy" meant and he wrinkled his brow and said well he had always heard it meant the people's genealogy was "ragged". Asst. Chief Robert Zoborowski, as a representative of the Polish community said it had something to do with certain people who didn't have screens on their windows and the curtains blew out of the window and whipped around until they became "raggedy". So you can see somewhere down the line everyone has forgotten what "raggedy" means, but it is remembered that it indicates a certain lack of responsibility and up until a few years ago the most gala of the New Year's Balls was known as the "Raggedy Ball". "Slow" Watts from Kingsbury invited Sherry and me to attend several years in a row but we always had another obligation. I really wanted to attend one at least but I had no idea what the implication of being "shanty Irish" and attending might be and there was always the possibility they might find out that one of my great grandfathers was Italian. Man, what a rush! I get an adrenaline flush just thinking about it.
Lyndon's cousin, Miss Ava Cox, used to look up into a stranger's face and say, "You aren't from around here, are you?" That's what I'm saying now, "If you aren't from around here you have to have this background to understand the complexity of Tom and Louise's circumstances. Tom is from an old family in Guadalupe County; a family so historically implanted that they are mentioned at length in Janice Woods Windle"s book, TRUE WOMEN published by Putnam Press and aired as a mini-series on the A&E channel. Tom had it made in that department, but here's where the "having to leave" comes in; TOM NEVER WENT TO TEXAS LUTHERAN COLLEGE! Tom, what were you thinking? Someone in downtown Seguin said, "He cudda at least got his bachelor of arithmetic from the Texas Lutheran". Later on someone said, "Maybe he would have been well served to get a bachelor of animal husbandry from Texas Lutheran. Even when I was a lowly Police Patrol Officer in Seguin, I had sense enough to take a course in Curanderismo at Texas Lutheran, thus providing myself with the entry level title: alumnus.
Tom doesn't talk much about college but admits he got his Bachelor of Science in 1964 in Civil Engineering from the University of Texas and his Master of Science in 1966 in Environmental Health Engineering, and again what can I tell you, from the University of Texas. Tom says his clients think of him as a Water Resourse Engineer and he travels from time to time and is often gone for days and days. This lead us to the THE EGG AND I phase of Tom and Louise's lives and you'll begin to see the prophetic quality of the statement made by the Seguinite who suggested Animal Husbandry as a major. Nowadays they call that "your discipline" which I think sounds kind of "prissy". My guess is that at one time in their lives Tom and Louise saw movie, theTHE EGG AND I at least ten times.
In the fall of 1975 Tom and Louise, fired by whatever stimulation, moved with three year old Kay to Blanco county and began a life of rural bliss. One of their first purchases was a cow which provided them with fresh milk and cream and butter and when Tom was home to milk the cow everything was OK, but Louise is not a large woman and doesn't have large hands and so when Tom was away on business she had to developt a special "two-hand-one-teat" technique of milking which didn't increase the milk production at all and left a decided look of consternation on the cow's face. Someone said you could almost see the calf take on weight when Tom was away. At this point I hope you have the feel of being "from around here" and that Miss Ava will smile, knowing that you'll be able to understand the next phase of this drama.
It"s the best of times; It's the worst times and Tom is on his way with daughter Kay to the shed to milk the cow; the sun is setting; Louise is back at the house with new baby,Courtney and the world is a wonderful place to be. Father and daughter engage in light conservation. Kay says, "Daddy, there's a skunk coming down the road". Father answers, "Are you sure it's not a cat?" Tom came around the corner and sure enough there was a skunk walking arrogantly down the road straight toward them as if they were relatives. Tom told Kay to run to the house and tell Louise that he needed the gun. This was probably not a good call. Kay stayed with little Courtney while Louise brought Tom the .410 shotgun and Tom did what a man has to do,which was again probably not a good call. By the time the shot rang out the skunk was standing right by the pump house with its sophisticated power lines and water pipes. The shot hit the skunk but also hit a water line. The skunk made it inside the pumphouse under a geyser of spraying water and died just in time to begin floating upward as the water filled the pumphouse. Daughter Kay returned to watch the spectacle and Tom's analytical mind went into "supercharge": CUT OFF WATER.....done.....FINISH MILKING COW.....done.....DISPOSE OF SKUNK.....done.....(it is now pitch dark and Tom has work to do for a Client and must fly out of State early in the morning....time is of the essence) REPAIR THE WATER LINE AND TURN THE WATER BACK ON.....we can't leave the family without water for three to five days.....done.....the smell is beginning to subside a little and now.....CLEAN UP THE MESS,,,,,a very nasty job, Louise provided tomato juice and finally.....done it's after midnight and the next job is WORK ON CLIENT'S REPORT.....until two AM.....good enough for government work....done. It really feels good to be clean at last and to sink into the covers and pillow for a couple of hours sleep before leaving for the airport. Tom wondered if the trip was going to be a continuation of the disastrous past four and a half hours. Somewhere as he drifted off to sleep he heard a voice say, You could have gone to Texas Lutheran".
The next morning with adrenaline flowing through his veins, Tom made the airport with plenty of time. He parked his car and the shuttle bus got him to the terminal with minutes to spare. Tom began to feel that his karma had changed and that things were really going to be all right. He began to have that "I can do no wrong" feeling. At the terminal Tom was treated with the greatest respect and courtesy as he checked his luggage and made his way with his carryon to the plane. He was helped with his carryon and even helped to his seat; in fact the stewardess found a seat for him that was less bumpy since the plane was about half empty. From the airport to the Client's headquarters was a breeze; the taxi driver was not a talker; the taxi went straight to the destination with no "meter runs" and the clients were all smiles. Tom was ushered into the board room where the demonstration was to be presented and coffee was served and then the CEO suggested they get right with it. Tom made his presentation until the lunch break; there were no interruptions nor confusing questions and everyone seemed genuinely interested in the proposal When they broke for lunch, the head waiter ushered the group to a special table that provided a certain amount of privacy and it almost seemed as if the presentation was carrying right on from the board room to the restaurant. Lunch was excellent and over in record time. The afternoon went quickly and because of the smoothness of the presentation the meeting was adjourned a little early and Tom was able to get that needed extra sleep. Tom felt that he was glowing with good karma as he finished the reports and presentations; the client had never been more cooperative and accepted the entire project without any alterations On the flight home Tom slept like a baby, flush with the feel of victory.
Driving up the roadway to the house was a good feeling and as he entered the living room, Tom felt like a knight of old returning from a successful crusade. Louise walked into the living room and promptly said, "TOM, GET OUT OF THOSE CLOTHES AND GET INTO THE BATHTUB, YOU'RE GOING TO HAVE THIS WHOLE HOUSE SMELLING LIKE SKUNK!"



Return to Home